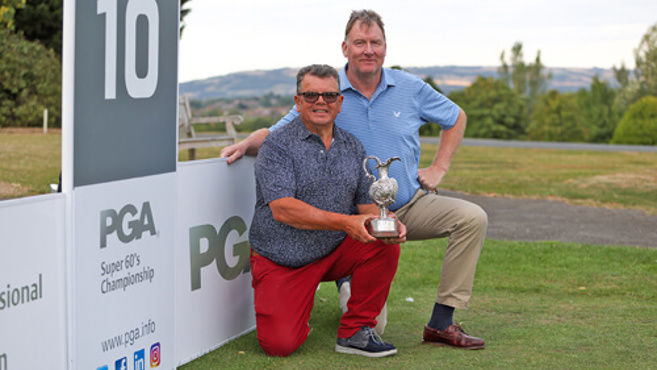 Royal Eastbourne Golf Club duo Charles Giddins and Avelino Da Silva ensured new names will be engraved on the PGA Super 60s Championship trophy following an absorbing and tense contest at Tewkesbury Park.
Their victory, however, was a close-run thing. So close in fact that they prevailed on countback by virtue of having a better second round than Waltham Windmill Golf Club's Stephen Bennett and Mark Hornby.
Both pairs amassed 90 Stableford points from their two negotiations of the Gloucestershire course but the Sussex duo's 46 from round two ensured they denied Bennett a second victory in the competition.
Similarly, Graham Laing and Steve Cook, the defending champions from North Wilts Golf Club, were kept at bay after setting the pace on day one.
Giddins and his amateur partner had begun the second round three points adrift of the leaders and still trailed their rivals from North Wilts and Waltham Windmill at the halfway stage.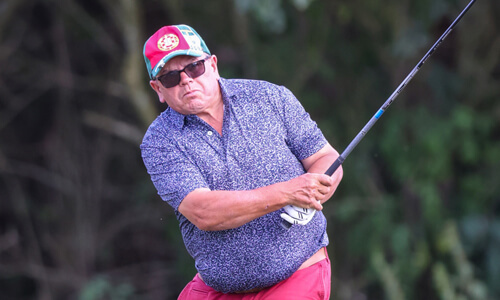 They moved into overdrive on the back nine, however, not least at the par-five 15th where Da Silva (above) recorded a nett eagle to account for four of the duo's 24 points on the way home.
Not only did the eagle prove crucial in the final reckoning, it typified the 14-handicapper's performance according to his professional partner.
"We worked as a team and gelled well and didn't drop a shot over two days, which I think was our strong point, but Ave was fantastic," said Giddins.
"We've played in pro-ams all over Europe dozens of times and he always gives it one hundred per cent.
"But he was outstanding today. It's the best I've ever seen him play.
"There was a lot of teamwork. We looked at shots and our strategy was good but above all, we came here to enjoy ourselves and have had a fantastic three days here.
"We enjoyed the course, had a great reception from the members and loads of support."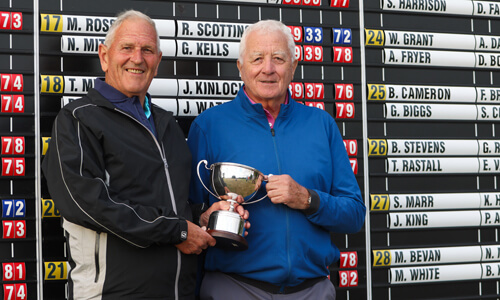 Meanwhile, the Superb 70s was also resolved by countback after Hagley Golf Club's Iain Clark and Colin Day and Michael and Julian Steadman finished level on 77 points. As was the case with Super 60s, Clark and Day (above) prevailed thanks to a better second round to win the trophy for the second time.
CLICK HERE for a full list of scores