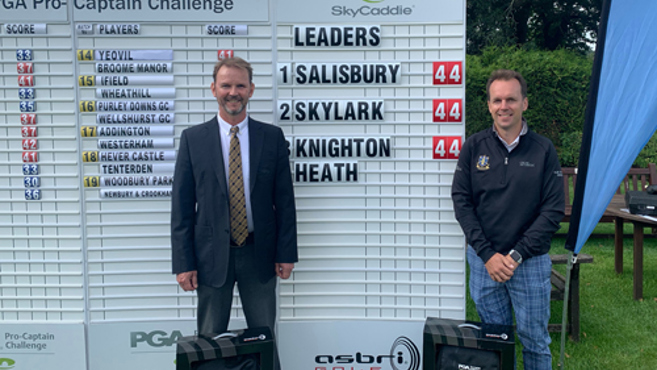 Damian Hayes marked a 25-year connection with Salisbury and South Wilts Golf Club by qualifying for the SkyCaddie PGA Pro-Captain Challenge final.

Hayes was the club's youngest captain when he was given the honour last year at the age of 37. As well as that, his family links to the club go back two generations.

So making it to the final, due to be played at Agentario Golf Resort in Porto Ercole, Italy, in October, was the ideal way to crown a quarter of a century the club.

Hayes teamed up with PGA Professional Andy Beal for the Prostate Cancer-supported South A qualifying event at Stoneham Golf Club, Southampton.

And the pair experienced a tense finish as they were level at the top of the leaderboard on 44 points with Andrew Windsor and Andy Parsons of Knighton Heath Golf Club, and Nathan Cook and Martyn Dobson of Southampton Municipal Golf Course.

However Beal and Hayes prevailed on countback despite bogeying the 18th hole.

"I wasn't expecting us to win," admitted Hayes, a four-handicapper who runs an electrician business. "I was expecting us to get wet, but the rain never came.
"I was as shocked as everyone else. But I've already booked the Italy trip off. I could've worked instead of playing here but life's too short."

Hayes joined Salisbury & South Wilts as a junior in 1996 and has stayed with the club ever since.

"My grandad used to play there, my uncle was also a club captain a few years ago, there's a real family tie there," he added.

"Also, Prostate Cancer UK is my chosen captain's charity and something I support throughout the year.

"I lost a grandfather on my dad's side who had prostate cancer and we've had a few members at the club who have survived it.

"It's very much a real thing and close to home. Our Captain's charity days are always well attended."
CLICK HERE for a full list of scores