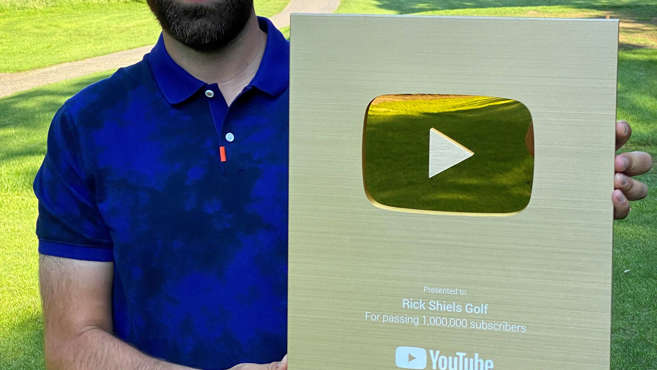 Rick Shiels has become the first golf YouTube channel to surpass the one million subscriber milestone, cementing his place as one of the world's most watched golf media outlets.
Shiels, who launched his 'Rick Shiels Golf' YouTube channel in 2011, has seen unprecedented growth over recent months, gaining more than 275,000 subscribers since the start of 2020, as his impartial, honest and entertaining presentation has continued to resonate with audiences around the world.
Shiels commented: "Our focus is always on creating content that will add value to our viewers, whether that be through them learning something new, improving their game, being entertained or a combination of all three.
"We don't set out to specifically grow subscribers, but as we neared the 1 million milestone it had become a huge goal for me and the team. To be the first golf focussed channel to receive the gold YouTube plaque is incredible!"
Alongside his growing YouTube audience, the reach of Rick Shiels Media has also grown across other social platforms, as audiences continue to seek authentic voices for their golf news and entertainment.
Shiels' diverse portfolio of content, which is centred around his independence and impartiality, ranges from club reviews, coaching tips, golf interest stories and entertaining challenges, and achieves over 210 million impressions and 24 million views each month.
To mark the milestone, Shiels announced that he would be launching a junior development initiative, which will support his fellow PGA Professionals and junior coaching programmes, launching in Spring 2021.
Shiels added: "I have had some of my most rewarding coaching experiences running junior camps and bringing new players into the game, and I'm hopeful that I can use the platform that I now have to spread that message even wider."