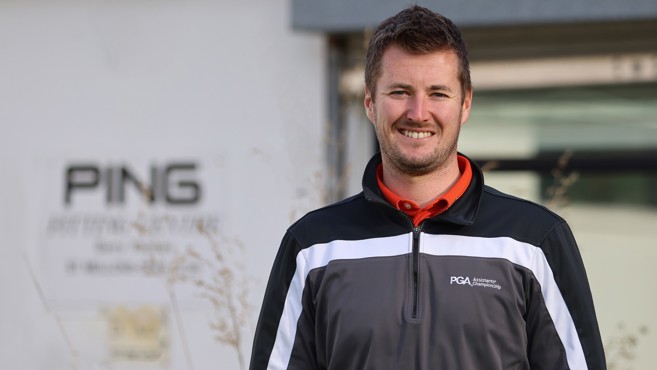 Watching Toby Hunt survey the array of unopened boxes and parcels littering the floor of his pro shop brings to mind a child's excitement before delving into them on Christmas morning.
At 28, Hunt is anything but a kid but taking the analogy a step further, Christmas has clearly come early for him in terms of the calendar and his career.
It's the first day of November and he's beginning his journey as one of the PGA's youngest head professionals, starting with opening those boxes and parcels and putting his new stock on display.
All of which means a year of two extremes for the new head pro at St Mellons Golf Club is ending on a positive note.
Having had to cope with the practical and emotional aspects of losing his grandfather and caring for his ailing grandmother in its first half, the Welshman went on to enjoy a purple patch of form on the golf course in the second.
"It kicked off when I went to Scotland to play in the PGA Professional Championship at Blairgowrie in June," he recalled.
"It was a week to the day after my grandfather passed away. That was really tough to take, and I went there expecting to miss the cut as I'd hardly played and not done much practice.
"Lo and behold I went out on day one and was nine-under through 13 holes and broke the course record."
Hunt eventually finished eighth and as his truncated season unfolded, he won the PGA South West region's Order of Merit for the first time and was rarely out of the top three in regional pro-ams.
He also just missed out on winning the Asbri Welsh PGA Championship for a second time when Lee Rooke prevailed in an epic nine-hole play-off at Aberdovey.
Now he has succeeded Barry Thomas as head pro at the club on the cusp of Cardiff in what is the latest chapter of an association that began almost two decades ago.
"I joined St Mellons when I was 10," Hunt explained, "and began working for Barry on a part-time basis when I was 18. I turned pro at 19 and did my PGA straight away.
"Once I completed that Barry wanted me to play and I'd help out in the shop when I was needed. I did some coaching but prioritised playing.
"We had a unique relationship and he's always been brilliant with me – he's been my coach as well and never charged me for a lesson. He didn't really charge me for any clubs either!
"He did everything he could for me to make a success of playing so I can't thank him enough for everything he's done for me."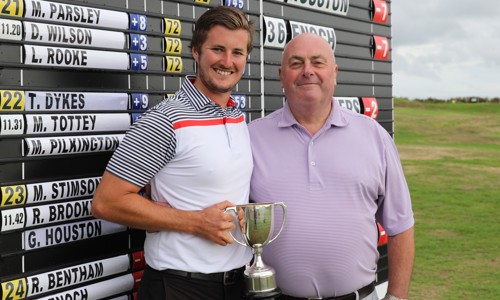 Succeeding Thomas as head pro was a natural progression for Hunt and, although early in his career, the timing of the takeover is perfect.
"I'm 29 next year and wanted some financial security," Hunt said. "At the level I'm at you're not making enough money through the summer to give you a good standard of living through the whole year.
"Furthermore, taking over at this time of year means I'm able to get the shop how I want it while the club's quieter.
"It will also give me a chance to learn how the shop works. Barry ran the shop, and I was in it for brief amounts of time, helping out when needed."
Although he has focused on playing since qualifying as a PGA pro, Hunt is well-versed in many of the disciplines involved in running a shop, not least coaching and club-fitting. He is also mindful of the long hours required.
"Barry worked 70 to 80 hours a week at times," he said. "It's something I learned from him – if you want to make a success of your business, you've got to put the hours in and work hard at it."
Despite that determination to succeed in this new facet of his career, Hunt will not be mothballing the skills that have made him one of the most accomplished players on the PGA and EuroPro Tour circuits.
"I plan to continue playing and the club want me to," he added. "It's good for their profile – the vice-captain said he wanted me to play because the club's name was at or near the top of most leader-boards.
"It was at a time when I wasn't finishing outside the top three. The boards said, 'Toby Hunt, St Mellons Golf Club' so it was free advertising for them.
"As far as next season goes I've got events to play in. I've qualified for the PGA Professional Championship and the Play-Offs.
"My main playing goal next year is to earn a European Tour invite. I've never done that and it's something I'd love to do, just to see if I am good enough among those players who do it week in, week out.
"The plan is to get a full-time assistant so he or she can cover for me when I'm playing. I'll probably advertise the role in January or February."
Whatever happens on the course in the future, however, Hunt will not forget the first half of his year of two extremes nor the lessons he learned.
"There are bigger things than playing golf and you don't realise it until they happen," he concluded.