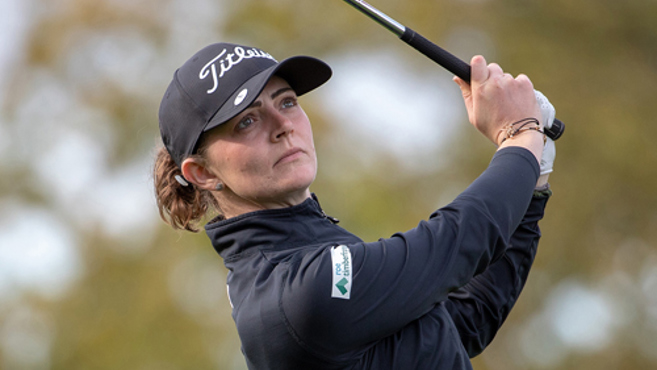 Six WPGA Championship winners, including former US Women's Open champion and Solheim Cup captain Alison Nicholas, have given the remodelled OCEANTEE WPGA Series the thumbs-up.
The sextet also comprises reigning champion Heather MacRae, 14-time Ladies European Tour winner Catherine Panton-Lewis, Alison Gray, Suzanne Dickens and Keely Chiericato, winner of the 2020 WPGA Series.
All six will tee it up in the first event of the OCEANTEE-sponsored series at Little Aston next week with Chiericato (above) striking the first blow at the Open Championship qualifying venue.
She will so do having made the 200-mile journey from her home club, Manston Golf Centre in Kent, incentivised by the increase in prize money that makes the trip worthwhile.
The increase, assisted by sustainable golf brand OCEANTEE's backing, sees the 2021 Order of Merit bonus pool boosted by 150 per cent and the prize money on offer in seven of the eight events doubled.
"The increase in prize money is a brilliant move for the WPGA and to have new sponsors in OCEANTEE on board is amazing," said Chiericato, the 2018 WPGA Championship winner.
"It makes the events 100 per cent more attractive to play in for the likes of myself. Some of them are miles away from me – like the one at Little Aston.
"That makes competing much more of an attraction. Also, it seems a few more girls have joined the WPGA this year, especially Trainees, so the fields should be bigger and the competition stronger. Which is good to spur you on a little bit more."
Chiericato has warmed up for the OCEANTEE WPGA Series by playing in the Rose Ladies Series and is happy with her form despite a lack of time for practice.
"My form has been OK to be fair," she added. "I had one blip at the Rose Ladies Series last week but I have been playing pretty well considering how much I've been working. 
"It's been really busy since we were able to open again following lockdown so I haven't had that much time to practise.  But it's nice to be back competing again."
Similarly, OCEANTEE founder and managing director Ed Sandison is looking forward to the series.
He said: "We're excited for the OCEANTEE WPGA series to get under way and are looking forward to meeting some of the players when we head to Little Aston Golf Club on May 25th. 
"We're really proud to be sponsors of the series for the next few years and can't wait to see how this grows and evolves over the coming months."
CLICK HERE to keep abreast of the scores