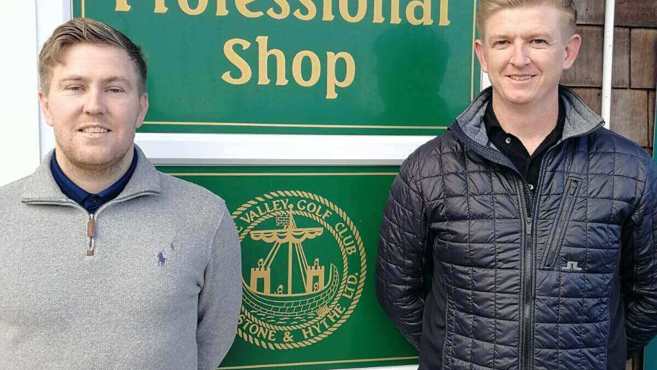 Two of Kent's most enterprising young PGA Professionals, Charlie Wilson and Bruce McDonald, have formed the Stable Group to provide both retail and consultancy to golf clubs. Their first commissions, Hythe and Sene Valley Golf Clubs, are both starting to feel the benefits.
"Our goal is to help golf clubs with whatever resources they need to boost their finances." explains Wilson, "Our approach is an unusual one: two PGA Head Professionals heading the pro shop teams to provide a more flexible resource for both clubs, combined with a clearer vision of what each club needs to grow and prosper."
He continues: "We're all here to help each other, especially the club PGA Professionals and the club decision makers. As PGA Professionals ourselves, Bruce and I have much to bring to both clubs and we will work closely with each club to grow their memberships, increase their retail business and strengthen their bottom lines."
For Sene Valley (senevalleygolfclub.co.uk), where Wilson started playing himself 15 years ago and still holds the course record of 62, part of the plan will mean not only a well-stocked pro shop but, subject to planning, a teaching and fitting studio equipped with GC Quad technology. With a revolving door that enables both a fully indoor simulation and an outdoor-facing bay, the studio will give the club an unrivalled golf facility in the area that's available all year round - whatever the weather.
They plan to grow Sene Valley's 500-strong membership, underpinned by the club's executive committee working hand-in-glove with Wilson and McDonald to deliver the new objectives.
At Hythe (hythegolfclub.com), Wilson's role is focused on the major opportunity presented by the neighbouring Hythe Imperial Hotel being able to  market a stay and play offering, whilst balancing the needs and wants of their club membership.
Both clubs and their members will share in the benefits this dynamic PGA Pro duo will bring, such as tailored coaching programmes, coaching holidays and the sheer energy they will bring to boost the clubs' coffers as private members' clubs.
As former Littlestone man, McDonald, summarised: "We've both learnt so much at our former clubs, and now it's time to show what we can deliver for clubs that share our vision of the way forward."