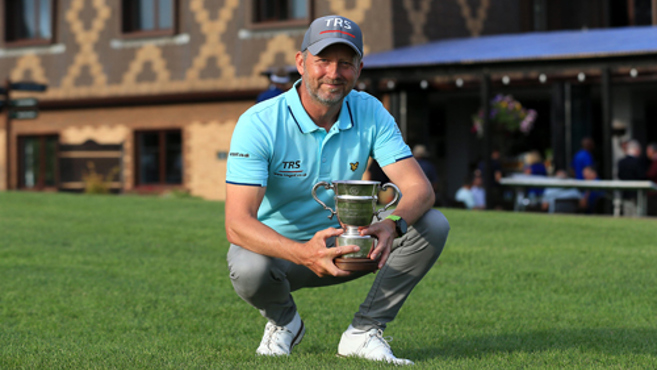 Liam Bond demonstrated a steely resolve to repel determined challenges from a trio of West country rivals to win the Senior PGA Professional Championship at West Essex Golf Club.
In what was a compelling contest that deserved a bigger audience and showed that high-quality golf is not the preserve of the young, Bond finished two shots clear of the field.
That was the margin with which he began the second circuit of the venue on the cusp of Epping Forest but it was an advantage he did not regain until the penultimate hole.
In between times Michael Watson of Wessex Golf got away to a high-octane start by reprising the way he finished round one with three successive birdies.
Having claimed the lead and established a two-shot advantage over Bond after 10 holes, three bogeys in a row effectively derailed his victory bid.
Meanwhile, Barry Austin and Richard O'Hanlon had been keeping the leading pair within range and ready to gatecrash their seemingly private battle.
That is until O'Hanlon recorded bogeys at 16 and 17 by which time Austin had drawn level with Bond on six-under courtesy of a two-shot swing at the par-three 15th.
He was on the wrong end of a two-shot swing two holes later, however, as his miscued drive resulted in a bogey and Bond, taking full advantage, holed a 12-foot putt for a birdie. Which, for Bond, was long overdue.
"It was a tough day and harder than I wanted it to be," he said. "Michael opened up with three straight birdies so I lost the lead after three holes.
"But I stuck at what I'd been doing all week – which was to keep hitting it nicely, clear of any trouble and hopefully the putts would drop at some point.
"Unfortunately for me it took until 17 before one did. When it did there was a two-shot swing and that took me into a comfort zone really."
That comfort zone meant a safety-first approach to the par five 18th that, negotiated in regulation, resulted in a one-under-par round of 70 and seven-under total of 135 for the tournament.
"Anything under par round here is pretty good anyway," Bond added. "I set the bar with six-under in round one. That was an outstanding round because it's a tough little golf course. Two rounds under-par - I'm quite happy with that."
In addition, to earning £6,000 for his victory, Bond, in common with the top 15 finishers in the tournament, has qualified for the Staysure PGA Seniors Championship at Formby later this month.
"My goal now is to get my category done and dusted on the Legends Tour so I've got somewhere to play for the next few years," he said.
"If I can have a couple of good weeks in those events that will do that for me. It's great to add another tournament to my schedule for this year."
CLICK HERE for a full list of scores from West Essex