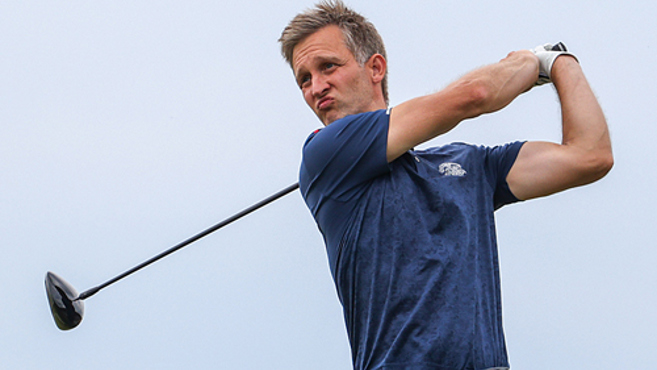 Lee Rooke reflects on his incredible victory in the Asbri Welsh National PGA Championship.
Earlier this season Harris English defeated Kramer Hickok at the Travelers Championship over a play-off that lasted eight holes, the second longest play-off in PGA Tour history.
Last week at Aberdovey Lee Rooke and Toby Hunt needed an astonishing nine holes to determine the winner of the Asbri Welsh National PGA Championship.
Rooke had won the title in 2013, when only two extra holes were required, but this time around the pair of them played half a round before Rooke completed the win.
"It was fun watching everyone squirm a bit as it was getting dark and the pin at the 18th wasn't really accessible so it was more trying not to make a mistake. We were both playing the hole pretty much the same and in the end they had to set up the course for other holes," explained the 42-year-old Rooke.
"Ideally you want a birdie hole, we were just hitting it 30 feet right of the pin as the out of bounds was just five paces off the green so we would be erring on the side of caution. Toby made a quad on the first day and bogeyed it in the second round so it probably wasn't his favourite hole.
"There was a storm delay and, when we came in, I had five holes left and was four shots behind so there was never any real pressure.
"I went back out and birdied two of them and, standing on the 17th, I knew that he must have bogeyed the last and that I was within one. Then I managed to birdie 18 – because you need a birdie it makes the decision for you to be more aggressive and you take the risk and then I just happened to hole the putt. I could stand there all year and not make another birdie."
In the extra holes Rooke and Hunt would play 18 three times, then the 1st, back to 18, before going down 1, 2, 3 before finally finishing up at the 16th.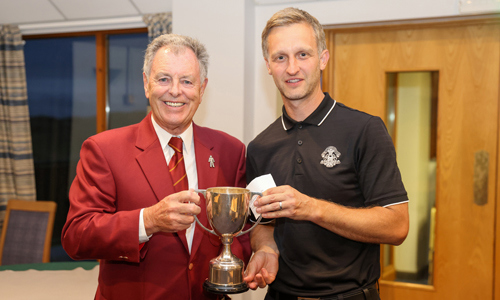 "I hit in the ditch the one time and he had the best chance to win it on the second play-off hole but after that we played a lot of the holes exactly the same.
"We would be equidistant quite a bit on the 18th, there was one hole where he chipped and putted so, out of the eight holes that he halved, there were maybe two holes where we didn't play it the same. The 16th is a risk reward but, in that situation you just hit a 6-iron and a wedge, and Toby just rolled off the side of the green which left a really tough chip – had it stayed up he would have had quite a short putt for birdie."
For Rooke, who is attached to Royal St David's where he won his first Welsh PGA, it has been a bit of a slow burner returning to competitive action after the various lockdowns.
"I normally play a lot but with lockdown it's been tough. The last two years I've not played as much as I would like and have found it quite hard getting back into the routine of it so it's been quite a tough year but I'll play more next year.
"It's been a mix of childcare, golf and teaching – I know everything you need to know about dinosaurs and fractions as I've got an eight-year-old daughter. But I've been working hard on my game and Simon Edwards puts a lot of effort into me and the other players so it's nice for both of us to get a bit of a reward for it."
As for next year all being well there will be a spot at Celtic Manor on the European Tour where Rooke has some previous and some unfinished business.
"I don't know if it's been confirmed but the winner of the Welsh has normally got a spot in the field.
"Tim Dykes played this year after his win in 2020 so hopefully there's a spot in it. I played in 2014 and finished last so I'd like to give it another go and get rid of those demons as I was awful. The occasion got to me a little bit and it was late in the year so I would like to play it a bit earlier in the year as it was brutal. It will be great if it happens and that will keep me going through the winter."