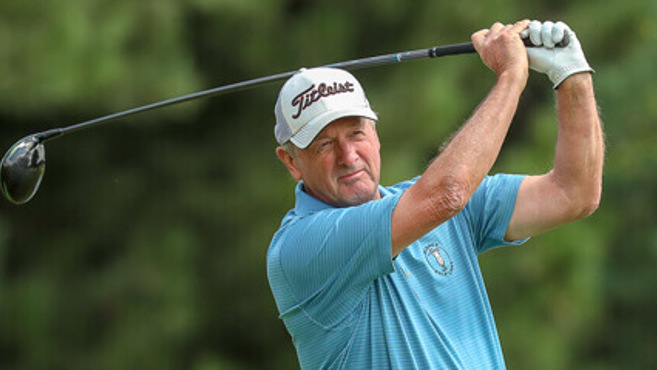 More than 700 miles separate the homes of Tony Price and Derek Sanders but in golfing parlance they ham and egged perfectly in the first round of the PGA Super 60s Tournament.
Price (above), a PGA Professional based in Alsace, France, and his amateur partner from Bishop Auckland Golf Club in England's north east negotiated the Wike Ridge course at Leeds Golf Centre in eight-under-par to lead the 36-hole tournament by two shots.
Their round of 64, which included a dropped shot at the par-three seventh, featured nine birdies and, whenever one of the duo failed to deliver, more often than not the other contributed.
Sanders, who plays off 10, recorded five birdies and Price, a former European Tour member and winner of the Wales Senior PGA Championship in 2004 and 2009 weighed in with four.
At odds with the geographical chasm that separates Price and Sanders, their closest pursuers, PGA Professional Bob Cameron and his amateur sidekick, Martin Feeney, are both attached to Sundridge Park Golf Club, Kent.
Cameron, in tandem with another Sundridge Park member, Gordon Hedley, won this tournament at Gleneagles three years ago.
Now, two shots off the pace, he and his new partner are handily-placed to repeat the feat and claim the £1,250 first prize.
However, with six shots spanning a third of the 74-strong field and given its better-ball format, the tournament is wide open.
That top third does not include defending champions PGA pro Glyn Krause and Wollaton Park's Richard Coleman. They are eight shots adrift of the leaders after posting a level par round of 72.
By contrast, Hagley Golf Club's Iain Clark and Colin Day are well placed to make a successful defence of the Superb 70s crown they claimed at Wollaton Park, Nottingham, 12 months ago.
They go into the final round on two-under, level with PGA pro Elderslie Golf Club's Richie Bowman and Peter B Kinloch, his amateur partner from Cardross Golf Club.