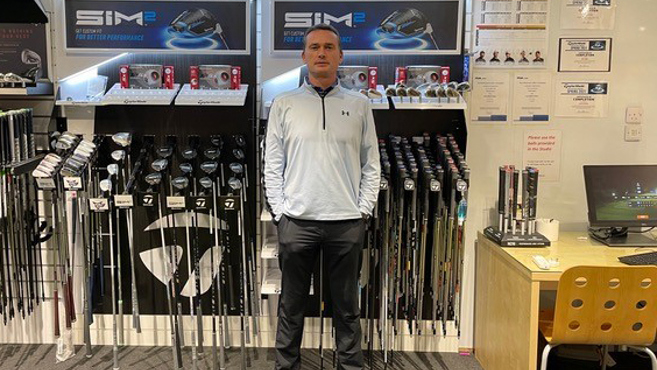 We speak to York GC head pro Mark Rogers on how the club and his business have benefited from having an indoor facility.
Mark Rogers has been at York GC for 13 years. In that time the former Foremost Pro of the Year and TaylorMade ambassador has seen a transformation in the club, not least its brilliant TrackMan studio. The course at York, also commonly known as Strensall, is one of the very best in Yorkshire, if still underrated on a larger scale, and Rogers' indoor facility now matches its outside surrounds.
What did the practice facilities used to look like?
When I first came here we had a huge practice ground but nobody would practise on it. The potential was enormous and we were keen to get the project going. In the early days we would run the range balls from the shop, hand pick and wash them manually and dispense in baskets without machinery too. The use of this facility quickly increased and the committee appreciated what we did and supported by investing in washing, collecting and dispensing machinery. Further structure on the layout and introduction of a short game area kept the momentum going too.
It continued to get busier and busier and, not long after, the captain at the time wanted the club to be his charity so, to save money, we managed to build a range shelter. The support was fantastic and we raised enough to get all the materials and some of the retired builders and joiners did it as a project themselves. They built a covered four-bay range facility which had an area for me to teach and we later added an all-weather tee so it was all evolving.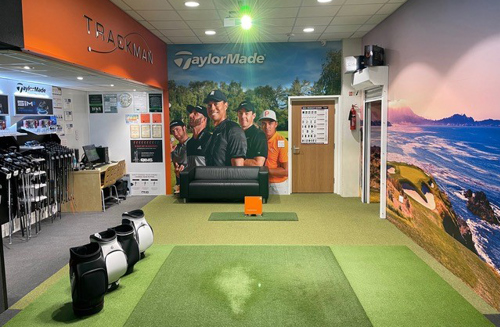 How did the indoor studio come about?
I got wind of indoor studios taking off, Martin Heggie at Moortown and Dave Padgett at Pannal had them in the very early days of getting them done and I could see back then that these facilities were very much the future and I was desperate to do something similar. It took a few years but the club could see the benefits of such a facility and the popularity of them increasing and eventually, with some fantastic support from members, the committee decided to build an extension on the pro shop to allow us to build the studio.
Some studios are converted buildings or by knocking out locker rooms or swapping out snooker rooms, we literally didn't have anything here so needed a stand-alone build. So it all had to be spot on. I would go and visit other studios and read about it and I was forever asking people what they would have done differently and there would always be something, however small. The technology is dependent on the size, with TrackMan you need more length in the room than if you had gone down the Foresight route so technology also played a part in room layout and size.
What do you particularly need to get right?
One of the main things that we had to get right was the ceiling height as you don't want any feeling of any encroachment. One of the members does projectors for a living and he was adamant that we needed to spend a bit more on that. Getting a better projector gave more options for the screen used which included less expensive ones and the positioning of the projector is critical and is also underplayed as I was desperate to avoid having a shadow on the golfer. So I spent twice as much as I might have done and that's been well worth it as the difference is astounding with the quality of the image.
The first impression is huge and rather than blank walls I wanted incredible images so it kind of knocked you over when you first walked in. I'm a big believer that you don't get a second chance to make a first impression and I wanted this to have the wow factor and so it set the tone to looking forward to using it.
The hitting mat is also surrounded by a putting green surface which is the same Stimp as the greens in the summer. So it's great for any putter fittings in the middle of winter.
What advice would you give to a pro who doesn't have much space?
We were so lucky with the space but, if you are converting an old office, it is so worth it to have something rather than nothing. Ideally you'll have space to house four people so you can have a game but if it's just enough for a one-to-one you can still do your lessons and fittings and rent it out for some usage.
Any business where things, like bad weather, are beyond your control can be brutal but if you can take ownership and have something to offer then it really helps. The top trump is lessons, then fittings and then private rental.
In the early days we had nothing to protect us from the elements so there was a complete drop off, then we had the range facility so there would be a pick up from the lessons that would have cancelled in the rain, now if the weather is terrible then we can carry on regardless.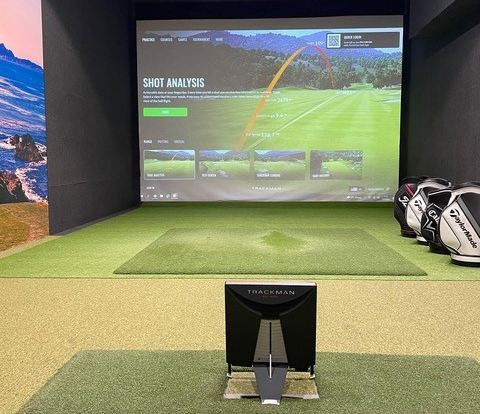 Is there any downside to fitting indoors?
Some people like to see a ball flight but the beauty indoors is that we're using proper balls and that's a big part of the fitting and we're not fighting the wind or the cold. The driving range has a big crosswind and it's hard for definition even though you can still get the numbers. By never having to fight the weather when doing a fitting is huge for the customer experience. Plus we will always do a follow-up as it is a leap of faith to be fitted for a club and not getting the chance to hit it outdoors.
Who uses it?
Everyone. The games are constantly updated and we have juniors in two nights a week so we get to keep up that interaction with the youngsters. As well as the lessons and private rentals you can connect it to your SkyGo so it's great when the Masters or Open is on and it makes for a brilliant gaming room with an Xbox. I have heard of some studios being rented out for a kids' party and one member here loved it so much that he's built one at his own home.
When we show perspective members around our club they know that the course, range facility and the recently renovated clubhouse are fantastic but the Trackman studio also sets the stall out that we're doing things right. It's a difficult thing to quantify but it definitely does help so much.