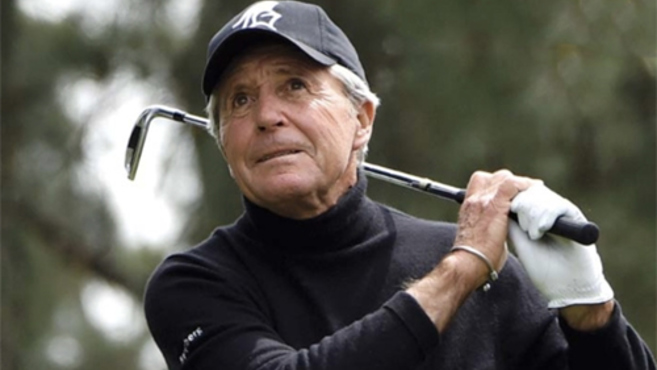 On Gary Player's first visit to Great Britain in 1955 he played in the Leeds Cup at Huddersfield and very nearly won it. In the early 1930s the rules were amended by the PGA North Region in that they restricted entry to PGA members of the region plus any professional from overseas who was playing in the Northern qualifying section of the PGA Match Play Championship.
The South African, who would play in his first Open the following year and win his first Claret Jug in 1959, came to the last hole needing a five to win.
This is how the Yorkshire Post described what happened next: "Needing a five to oust SS Scott (Carlisle City), a member of this year's Ryder Cup team, from first place, Player hooked his second shot and his ball came to rest six inches from a stone wall. Instead of playing out sideways and trusting to getting down in a chip and one putt, Player tried drive the hall against the wall, hoping it would rebound on to the green. Instead, it flew up with terrific force and struck Player on the face.
"The South African was dazed, but after a few minutes he recovered sufficiently to go back into the ditch and try again. This time Player chipped out and holed a 15-yard putt for a seven, which included two penalty strokes for striking himself with his ball. After being X-rayed at Huddersfield Royal Infirmary, Player was treated for facial injury and discharged. Today he flies to Holland to compete in the Dutch Open. 
"Scott's victory, his fourth in this event in the last six years, was the reward of steady, unspectacular golf. His 74 threw the door wide open to his nearest pursuers, but none of them could take advantage of it on a day made for low scoring."
When the Leeds Cup returned to Leeds Golf Club (Cobble Hall), Player wrote to the club with his memories of that particular shot and the ensuing fall-out….
"There was a stone wall on the 18th and I thought that I could bank my shot off the wall on to the green. I went for it… and the ball hit me in the jaw and knocked me down!! They gave me some smelling salts. Dazed, I then chipped the ball on to the green. I thought, great… four shots. I then holed the putt for five and thought I'd won the tournament, only to find out I was given a two-shot penalty for hitting myself!!"