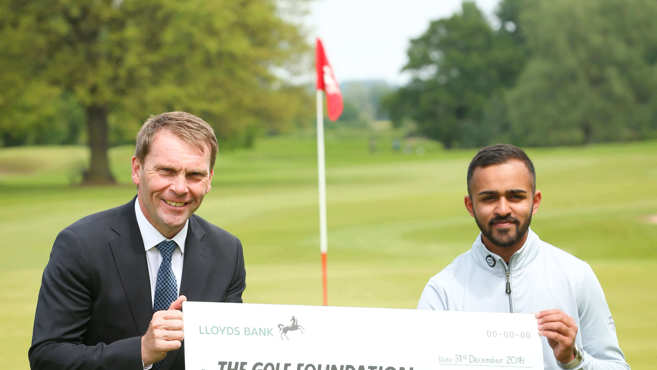 The PGA has underlined its continued support for growing the game of golf at grassroots level by donating £50,000 to The Golf Foundation.
The money will go towards funding the wide range of initiatives run by the Golf Foundation – many with PGA Professionals at the heart of the delivery.
As part of the HSBC Golf Roots programme which creates a strong 'Start, Learn and Stay' pathway from school to regular club golf, with the support of PGA Professionals, projects include Tri-Golf and StreetGolf in schools and the thriving GolfSixes League series, as well as the relaunched Junior Golf Passport.
Robert Maxfield, Chief Executive of The PGA, said: "The PGA is delighted to support the Golf Foundation and the fantastic work the organisation does in inspiring more young people to play the game.
"PGA Professionals play a key role in encouraging the next generation of golfers into the sport, with many of our Members running junior programmes in conjunction with the Golf Foundation.
"We are committed to doing all we can to get more young people playing golf so we are delighted to be able to throw our support behind one of the sport's leading charities."
The Golf Foundation, with the help of PGA Professionals, has worked hard to break down barriers in golf and making the sport more accessible for juniors to help boost participation rates.
Among its success is the re-launched Junior Golf Passport scheme which has proved popular with PGA Professionals and is aimed at enhancing the experience of youngsters and helping clubs attract new golfers to the game.
A new programme for 2019 that helps young people develop mental toughness has also been created with the support of PGA Professionals. 'Unleash your Drive' helps create Skills for Life that can be used on the golf course but also in the wider lives of the young people taking part.
Brendon Pyle, chief executive of the Golf Foundation, added: "We are delighted with The PGA's contribution and show of support for all of this charity's initiatives, which in turn helps us grow the game at club level and reach fresh audiences as we demonstrate what an inclusive sport golf can be.
"PGA Professionals remain very much at the heart of our strategy as the Golf Foundation continues to encourage more young people from different backgrounds to enjoy the benefits of golf."