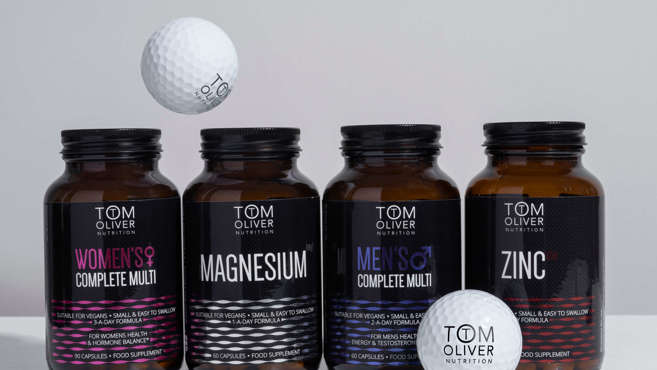 The PGA has announced an exciting new partnership with premium UK nutrition brand, Tom Oliver Nutrition, who will become the Association's preferred vitamins, minerals and nutritional supplements provider.
Tom Oliver Nutrition was founded in 2015 by fitness & rehabilitation expert and former professional rugby player Tom Oliver whose products are stocked in Harrods, Boots, Whole Foods Market and Holland & Barrett amongst other retailers.
Commenting on the new partnership, Tom Oliver said: "Our goal is simple, we want to make a difference in our customers' lives by producing high-quality nutritional products which help support healthy lifestyles. We strive to source the very best ingredients and conveniently deliver high-quality products through researched formulas.
"We believe our extensive range of products can help every golfer perform better on the course. Our products range from injury prevention with our Curcumin Complete and Vitamin C products for reducing inflammation, to recovery and weight management using one of our many protein formulations.
"We also have products for improved sleep and muscle function, general immunity, brain health and concentration, plus the wide array of general wellness supplements and multi vitamins. It's never been a more important time to prioritise your health."
As part of the agreement, PGA Members will have access to an exclusive 'PGA Own Use' programme, as well as healthy retail margins for golf shop sales to help grow their business and provide wellness formulas for both members and guests.
David Adams, PGA Head of Commercial Partnerships, added: "We are delighted to announce this exciting new partnership with such a progressive and health orientated brand.
"The PGA and Tom Oliver Nutrition are both committed to promoting the benefits of a healthy and active lifestyle. We are excited to work with Tom Oliver Nutrition to further develop their business, and brand, in Great Britain and Ireland."
For more information about product sourcing and in-store merchandising, please email Stephen Banks (PGA Member) stephen@tomolivernutrition.com.
CLICK HERE to find out more about Tom Oliver Nutrition.