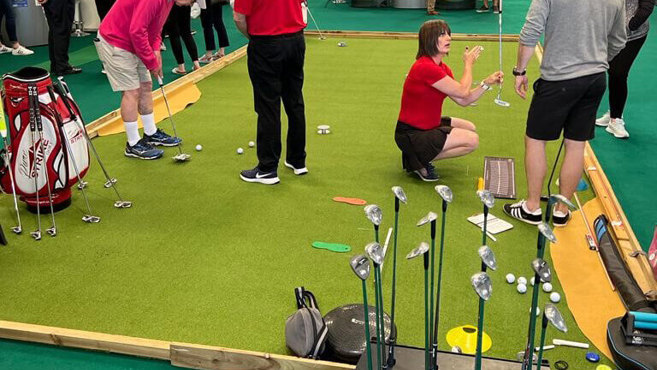 The British Golf Show, in association with The PGA, provided thousands of golf fans with the perfect opportunity to learn more about their game thanks to help from a highly experienced team of PGA Professionals.
The British Golf Show returned to Wycombe Air Park in Buckinghamshire from 13-14th May with more than 11,000 people attending across the two days.
Denise Hastings (Bedfordshire Golf Club), David Playdon (Nailcote Hall), Alison Perkins (Biggleswade Golf Centre), Zoë North (Leam Valley Golf Centre) and David Bartlett (Bramshaw Golf Club) took to the nets and putting green to provide free lessons to visiting golf fans.
North thoroughly enjoyed the experience. She said: "It was busy and a great place to network. I had a great time coaching a variety of people from keen golfers to complete beginners and it was wonderful to see so many people trying golf and being able to encourage them to give it a go."
More than 100 people took advantage of a free golf lesson as part of The PGA's ambition to showcase their new Find a Golf Lesson platform.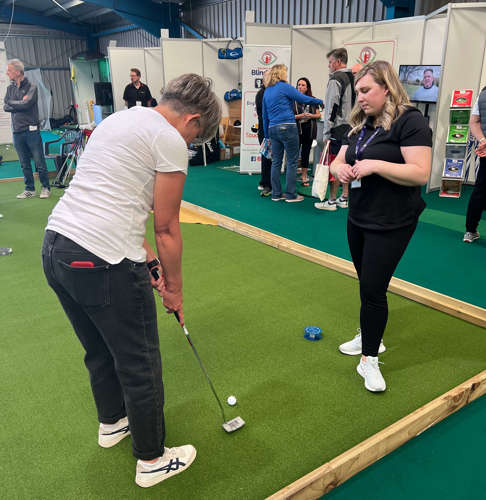 Hastings explains perfectly why it's so important for golfers to take lessons from a PGA Professional. She said: "The amount of work we have to do to become qualified as a PGA Professional as well as our ongoing learning and training means our knowledge is second to none. Having a lesson with a PGA Pro will give you feedback, but your PGA Pro should also be able to answer all your questions as well as give different options to help you improve."
Bartlett echoed Hastings' comments, adding: "There's a whole host of good information now on the internet, so people can research information on platforms like YouTube. As good as that is, it's a little generic and may be useful to some but not others, so if you can have your golf lessons with a PGA Pro, it will be tailored to your specific requirements."
As well as showcasing Find a Golf Lesson, the British Golf Show brought together a number of PGA Partners and PGA Branded Properties.
More than 120 brands attended the show and amongst them were St. James's Place, Therabody, Lavazza, Tom Oliver Nutrition, as well as Vipingo Ridge, home of the PGA Baobab Course, Africa's only PGA-accredited golf course.
Andrew Green, Therabody's Business Development Director, commented: "It's our first event in Europe in golf, so the opportunity for us to present our brand and showcase our great products and innovation has been fantastic. To be able to engage and talk to members of the public and PGA Professionals has been invaluable."
Saleem Haji, Director of Golf at Vipingo Ridge, added: "It's been really nice to be able to engage with other golf brands during the show - it's been very useful."
Alex Ayling, Managing Director at The Elite Events, organisers of the British Golf Show, added: "It's clear the British Golf Show is going from strength to strength, not only providing the perfect platform for exhibitors to put their products in front of potential customers, but also for golfers to try out some of the industry's leading brands.
"I am delighted how the event went. We wanted to build our show in 2022 and carefully listened to the feedback from exhibitors and visitors alike, in order to provide an even greater experience for everyone.
"It's all about continuous improvement and raising the bar each time and that's what we will strive to always do. Thank you to all our partners ad exhibitors that made the show the success it was this year. Roll on 2023."
CLICK HERE to find out more about the British Golf Show.