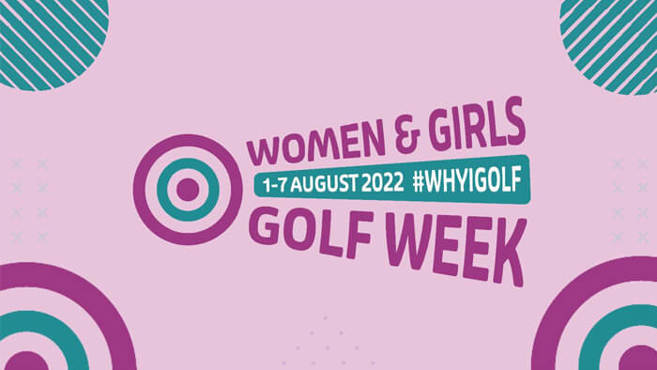 The PGA is supporting Women and Girls Golf Week, an online and digital campaign aimed at celebrating female successes on and off the course.
The campaign, which runs from 1st August to 7th August, 2022, coincides with the staging of the AIG Women's Open, held this year at Muirfield in Scotland, where the focus of the world's media attention is on the female game.
Each day of the campaign focuses on a different theme to showcase the wide variety of ways women and girls of all ages can get into golf.
This year's campaign themes are:
Monday 1 August: Careers - Introducing inspiring women who are blazing a trail in the golf industry.
It is careers day in Women and Girls Golf week and our PGA Captain has an incredible employment story 🏌️‍♀️ #WhyIGolf

From 22 years on the @LETGolf to a PGA Specialist Coach, @SBennettgolf doesn't do things by halves 👏

Hear more about Sarah's journey in @Women_and_Golf 👇

— The PGA (@ThePGA) August 1, 2022
Tuesday 2 August: Volunteering - A chance for everyone to shout about those unsung volunteers who are key to the game's success.
Wednesday 3 August: Health and Wellbeing - Engaging conversations with women who have found golf to be a transformative experience for mental and/or physical health reasons.
Today #WomenandGirlsGolfWeek is focusing on Health and Wellbeing 🏌️‍♀️

We spoke to PGA Professional @katgolf14 who explains how the health benefits of golf are far deeper than just increasing your step count... #WhyIGolf

— The PGA (@ThePGA) August 3, 2022
Thursday 4 August: Competing - A chance to hear from those who love the buzz of competition.
Friday 5 August: Role Models - Taking a leaf from the many women who inspire by their actions not only at the top of the game, but also at grassroots level.
Saturday 6 August: Newbies - Focusing on those who are new to the game – and who now couldn't live without it.
Sunday 7 August: Join the club - A rallying call for those on the outside to come and join the golfing party!
Be a part of this inspirational week by sharing your story with us on the days above by tagging @ThePGA on our social channels along with #WhyIGolf.