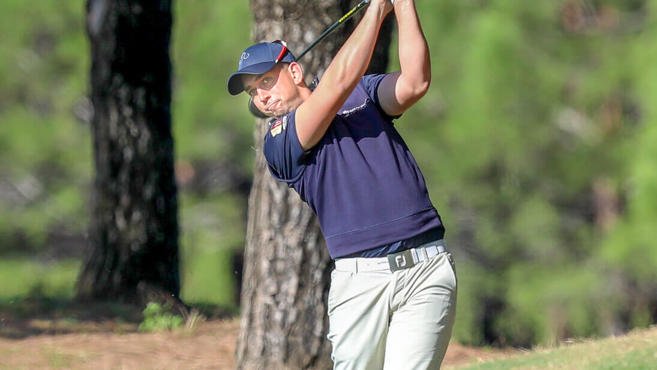 A pair of PGA Europro Tour hopefuls and a seasoned campaigner set the pace in the first round of the PGA Play-Offs at Antalya Golf Club, the home of the PGA National – Turkey.
Ashley Mansell (above) and Mike Bullen, who clocked up more than 20 PGA Europro Tour appearances between them this year posted four-under-par rounds of 67 to lead the 24-strong field vying for the £3,500 first prize. As did Andy Willey, the 2018 Titleist and FootJoy PGA Professional Championship winner.
But while the end results of their negotiations of the PGA Sultan course in the Turkish sunshine were identical, the manner in which each one arrived at his destination contrasted sharply.
Mansell, who is attached to Clevedon Golf Club, Somerset, set off in the way he won the PGA South West region Order of Merit – at a gallop.
The 29-year-old, who won three of the four events and did not play in the other, birdied the first two holes and followed suit at the opening pair on the back nine. He also signed off with a birdie to atone for the one blip in his round – a bogey at the par-four 12th.
The 26-year-old Bullen, by contrast, was bogey-free. Buoyed by his victory in Australia's National Futures Championship at Ballarat Golf Club last month, the reigning PGA Assistants' Champion who is attached to Rustington Golf Centre, Sussex, bagged a brace of birdies in each half.
Meanwhile Willey upstaged the pair of them when it came to accumulating birdies. The pro from Oakmere Golf Club, Nottinghamshire, recorded six of them but dropped shots at the sixth and 15th holes.
All of which has left the leading trio just a shot clear of some formidable opposition.
Canterbury Golf Club's Richard Wallis, who won the tournament at this venue in 2011 and 2012 and is attempting to become the first to win it three times, is one of five on three-under.
The quintet also includes his 2019 Great Britain and Ireland PGA Cup team-mate, Little Channels Golf Centre's Jason Levermore, James Ruebotham of Welwyn Garden City Golf Club, Abbeydale Golf Club's Gareth Davies and, leading the Irish challenge, Colm Moriarty of Glasson Hotel & Golf Club.
Scotland's Andrew Forsyth, who turned the 2019 Titleist and FootJoy PGA Professional Championship into a procession, is a shot further back level with compatriot Craig Lee and Michael McGeady of Ireland.
In total 13 of the field broke par which is testament to not only the standard of the golf but also a course that was in pristine condition despite an overnight drenching of such ferocity that green-keepers at many UK establishments would have called for flippers and snorkels to go about their business.
Click here for the full list of scores from round one