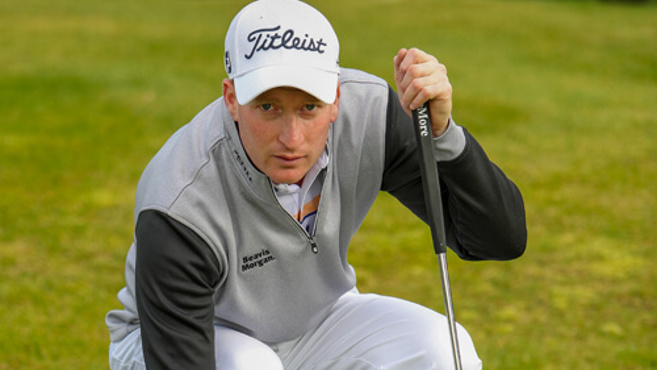 PGA assistant professional Steven Tiley is putting the hands that normally grip golf clubs to good use during the lockdown by helping produce thousands of bottles of hand sanitiser for the NHS.
The 37-year-old from Herne Bay, Kent, who is attached to Royal Cinque Ports is working for Nutraset, a business owned by his father, while the European and Challenge Tours are on hold because of the coronavirus pandemic.
The Canterbury-based company usually produces food supplements but John Tiley has switched production to supply health trusts, key worker employers and care homes with hand sanitisers to help combat the virus.
Steven Tiley was facing several months without income until the Tours resume so working for his father is providing him with a financial life-line.
"I am getting paid so that is good because there are no tournaments and I can't play for any money at the moment," said the father of two.
"I am doing seven-hour shifts, four times a week, and also home-schooling the kids.
"We can only work two people at a time and we do 500 bottles, then we swap and help make up the solution.
"You are not constantly on the machine for seven hours although there is always something to do. But I do sometimes look outside when it's nice weather and think about playing golf.
"There aren't many skills I can use from golf but work colleagues have noted how driven I am. When you play sport you are constantly seeking ways to do it better. I just tend to try and do above and beyond all the time.
"At first, I didn't think I would be cut out for it, you have to be very technically minded and it was so out of my comfort zone, but I am used to it now and producing 2,500 bottles on my shift.
"Athletes self-motivate very well, particularly when you play a sport on your own and have to set goals.
"Every day I am thinking how I'm going to improve at golf and I have used that in the business, thinking how can I make this machine work better."
Should the machine malfunction, however, Tiley has to summon help from his father who is self-isolating with his wife because she is vulnerable having undergone a kidney transplant.
"We are having to do things through FaceTime," Tiley explained. "When something comes up that I can't fix because I am a professional golfer, he is getting frustrated down the phone because he could do it in five minutes.
"He is like 'I can't believe you can't fix it' and I reply, 'well you try standing on the tee at the British Open, you can't do that!'"
Tiley did that in 2010 at St Andrews, posting an opening six-under-par round of 66 only to be upstaged by Rory McIlroy who was three shots better. He also played in the 2013 Open at Muirfield, finishing tied-26th.
He earned a European Tour card for 2011 and 17 but has played mainly on the Challenge Tour.
He recorded his first victory on it in the Le Vaudreuil Golf Challenge in 2019 and the most lucrative of his career came a year earlier when he won the Farmfoods Par-3 Championship at Nailcote Hall, Warwickshire.
"The last couple of years have been really good until this!" he added.