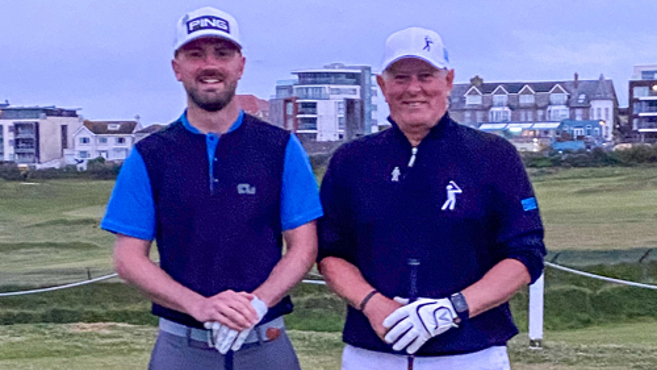 Josh Hancock, a PGA Professional at Newquay Golf Club, has raised almost £5,000 to help beat prostate cancer after learning a close family friend and club member had contracted the disease.
The cash, which will go to PGA Partners Prostate Cancer UK, has been raised by an auction and a raffle that included prizes donated by 2016 US Masters champion Danny Willett, a charity ambassador.
The key fundraising element, however, was a golfing marathon undertaken by Hancock (above left) that involved him completing 101 holes in a day on the Cornish course.
He was joined for the opening and final two holes of his golfing marathon by Keith Entwhistle (above right), the friend who has been diagnosed with advanced prostate cancer.
"Keith was the inspiration for the fundraising drive," explained Hancock. "When I came up with the idea we didn't really know what his physical health would be like, so have him join me and see him birdie the first and last holes was truly magical."
Hancock weighed in with 24 birdies which were sponsored at £3 each and 60 pars which were worth £1 a go. In total, he walked 26.3 miles in just over 14 hours, completed the 101 holes in level par and was joined by 11 different playing partners.
"I had unbelievable support throughout the day with different members coming out to cheer me on.," Hancock added. "I don't know if I'd been able to keep going without them."
In addition to his efforts to raise money to combat a disease that kills a man every 45 minutes in the UK – the time it takes to play three holes of golf – Hancock emphasises the importance of being screened to detect it.
He added: "What has happened to Keith is a real wake up call for his friends and it's essential men should be screened if there is any suspicion that they may have contracted this killer disease."
PGA Members can also play their part in raising funds to support Prostate Cancer UK by getting involved in Team PGA Big Golf Race Challenge