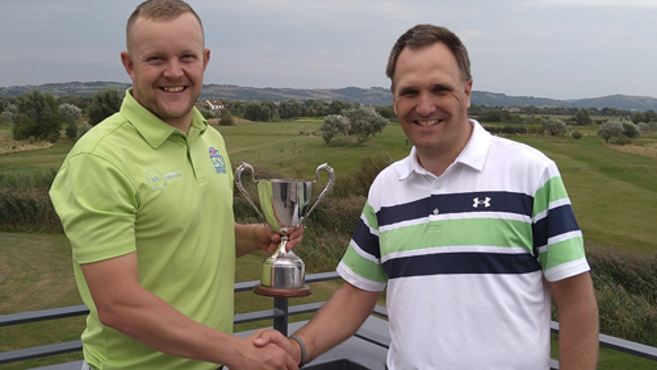 Ross Langdon began the packed programme of Gloucester and Somerset PGA events scheduled for the winter months by winning the 2021 Total Triumph Strokeplay at Brean Golf Club.
The pro from Brickhampton Court (above, left) negotiated the two circuits of the short water hazard-strewn Somerset venue in four under par for a final total of 134 to finish two shots clear of the field.
However, in addition to repelling the challenge of the runner up, Taunton & Pickeridge's James Keitch, Langdon claimed victory in a tournament that saw two of his rivals establish a new course record.
Weston Super Mare's Ali Balcombe was the first to enter his name into the club's record books with a three under par 66 in the first round.
Ed Goodwin of Circencester Golf Club matched that in round two but his record-equaling effort proved a case of too little too late in terms of winning the tournament.
He had to settle for fifth-place on level par a shot behind Balcombe and Filton Golf Club's Giuseppe Licata who finished tied-third on one-under.
The 26-event winter series of medals organised by Andrew March (above, right), Gloucester and Somerset PGA chairman and director of golf at Brean, and once again sponsored by Total Triumph of Taunton, gets under way at Knowle Golf Club, Bristol, on September 23.
It will culminate in the Total Triumph Strokeplay Championship at Worlebury, Weston-Super-Mare, in April next year.
FULL SCORES can be accessed here