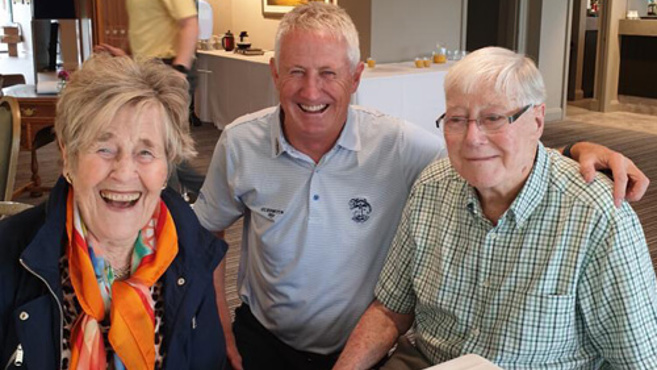 An inspiration, model pro and a true gentleman are just some of the tributes paid to PGA Honorary Member Brian Nield who has passed away at the age of 90.
The tributes were in response to European Tour winner Andrew Murray's social media post announcing the passing of a fellow PGA pro he described as "his mentor, guide and the man who got me into golf."
Murray (pictured above with Brian and Shirley Nield) was at Walton Heath, the scene of his victory in the Panasonic European Open in 1989, when he learned the man who taught him how to play had died.
"Brian had been struggling for a while and it was a call I'd been dreading," he said. "And I received it at the most poignant place possible - Brian was so proud when I won there."
That victory came 23 years after Murray had his first lessons with Brian at Didsbury Golf Club, Manchester, and he recalled: "I was 10 and knew from that point I wanted to be Brian Nield. He had a good life, was a good player and a good teacher."
Brian, a PGA Member for 73 years, was at Didsbury from 1956 to 1969 and then served nearby Bramall Golf Club in Stockport for 24 years before retiring in 1994.
It was there that the 16-year-old Murray joined him as an assistant and spent "the five most formative years of my career" working with him before putting his skills to the test on the European Tour.
The two kept in close contact thereafter and when Brian contracted Prostate Cancer in 2013 Murray, whose fundraising golf days have generated more than £300,000 for good causes, became an ambassador for the charity.
Brian overcame that as well as a cardiac arrest at Bramall three years ago when the prompt actions of the club manager and proximity of a defibrillator revived him. However, failing health eventually took its toll and, surrounded by his family, Brian died peacefully at home.
A devoted family man, Brian is survived by his wife Shirley, daughters Judith and Kate, several grandchildren, and a great-grandson. The PGA expresses heartfelt condolences to them, his other family members and friends on their loss.
*Brian's funeral will be held at Macclesfield Cemetery at 12.15pm on Tuesday June 28. The family have requested donations in lieu of flowers should be made to the British Heart Foundation.