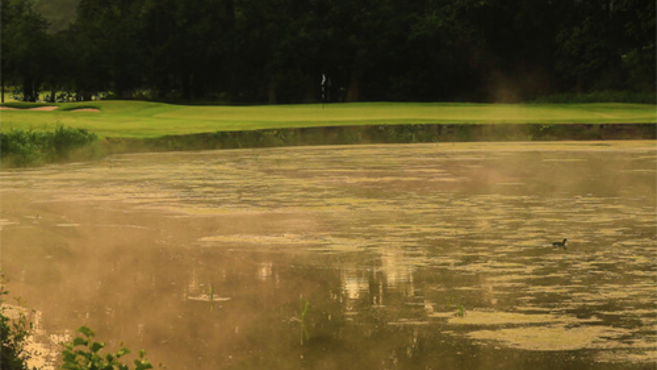 Tributes have been paid to Gavin Christie, an Honorary Member who has succumbed to cancer following a career that included coaching European Tour star Mark James for the best part of 50 years.
Gavin, who was 79, qualified as a PGA Member in 1962 and was attached to several high-profile clubs, not least Wentworth, Burghley Park, Lincolnshire, Kedleston Park, Derbyshire, and two in Co Dublin, Ireland: The Open Golf Centre and Lisheen Springs.
Similarly high-profile were some of the players he coached. In addition to James, European Tour winners David (DJ) Russell, the late Gordon Brand Jnr and Roger Chapman all benefitted from Gavin's expert ministrations.
James, however, was the jewel in his portfolio. "My dad would have seen Mark James as his number one," confirms Stuart Christie, one of Gavin's three sons.
"He taught him from an early age and what Mark went on to achieve is amazing."
Indeed. James built on those foundations and the subsequent association by recording 32 professional victories, 18 of which were achieved on the European Tour, playing in the Ryder Cup on seven occasions and captaining Team Europe in 1999.
That road to golfing stardom had begun when James was 11 and, encouraged by his father to take up the game, the two met for the first time.
"Gavin was the club pro at Burghley Park and my first coach when I started playing golf," James recalled.
"And apart from a six-year gap, he was my coach until he passed away. Funnily enough I am going to play a bit more this and next year as a sort of last two-years on Tour and we were both looking forward to giving it one final fling.
"I sent him some video a couple of weeks ago and he told me to get a pen and paper. Then he told me pretty much everything he told me for the past 50 years!
"His strength as a coach was that he got an extremely good grasp of the best way to swing when he was very young.
"Although he adapted and changed slightly, he always stuck to the principles of the Hogan swing, the late hit and not to worry about the left wrist being slightly bowed at the top of the swing.
"These days no-one bats an eyelid about that but in the 70s people said the left wrist should be concave at the top and not convex. Looking back, the way he was teaching then is pretty much the way the top players swing it now."
Aside from being ahead of his time as a golf coach, Gavin had a sharp brain and similarly acute sense of humour.
"Gavin was constantly telling strange jokes – he had a bizarre sense of humour and was a highly intelligent guy," James added.  He played county level Bridge and was very well-educated."
Gavin also had a big influence on Russell's career, the two time European and Seniors Tour winner crediting him with being a 'guiding light'.
Russell, who will captain Great Britain and Ireland in next year's PGA Cup, recalled: "When I turned pro, I spent a winter with Henry Cotton at Penina.
"Although it was a wonderful experience it didn't really do my golf any good. I started to struggle with what I'd been taught and when I came back to England I spent six months at home.
"Then an opportunity arose when Gavin Christie needed an assistant at Kedleston Park and I had an interview with him at Whittington Barracks – as it was at the time.
"His main interest was to see how I hit a ball - I hit one shot and he gave me the job! That was my interview and after that he worked closely with me for a few years.
"I went on to the European Tour four years later and he was instrumental in rebuilding me. He was always around if I needed help – he was very much a guiding light."
Chapman, meanwhile, was coached by Gavin when, having won just once on the European Tour in 25 years, he was victorious in the US Senior Open and the US Senior PGA Championship in the space of two memorable months in 2012.
Reflecting on his victory in the former event, Chapman said: "I can't put my finger on why I won at Benton Harbor and why I won here.
"I'm just more confident in my golf swing. Been working with my coach, Gavin Christie.
"We've been working on, obviously, things, and he basically says I'm not high maintenance. 'You just got to hit the ball as late as possible.' That's all he says to me."
Gavin is survived by his long-time partner Janet, and sons Stuart, Alistair and Martin.  The PGA extends heartfelt condolences to them and Gavin's other family members and friends.