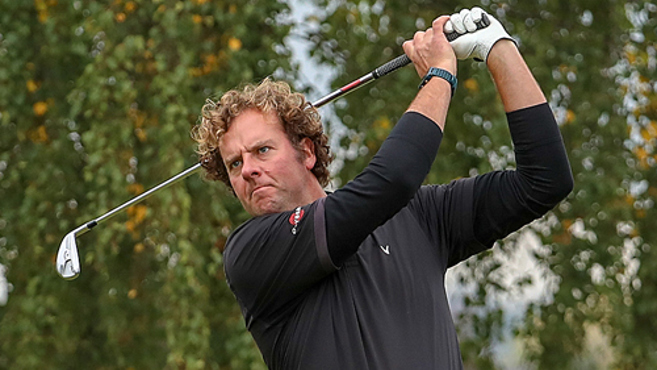 James Walker - son of PGA Master Professional Graham – has booked his place in a second showpiece PGA event by teaming up with Max Smith to qualify for the Golfbreaks PGA Fourball Championship final.
Smith, who is attached to Wheatley Golf Club, and Walker tied for first place with Tim Dykes (Penrith Golf Club), the reigning Asbri Welsh PGA Championship winner (above), and Andy Palmer (Chorley Golf Club) in the North region qualifier at Pleasington Golf Club near Blackburn.
They posted eight under par rounds of 63 to finish a shot clear of the field and, along with 11 other pairs from the event, will head to Carden Park Golf Club, Cheshire, for the £33,250 grand final which takes place next month.
Walker, who has just completed the first year of his PGA training and is based at Oaks Golf Club, between York and Goole, has also qualified for the final of the PGA Assistants' Championship.
And should he need some expert coaching to prepare for either of the two finals, he does not have far to go.
His father has been the head professional at The Oaks since April 2004, and is recognised as a coach who can identify young raw talent and develop this through to the highest levels of amateur and professional golf.
His son, a former England International, explained his background has seen him learn from some top level coaches as well as his father.
"My dad's worked with me since I was a kid, but I also had the chance to meet Dave Ridley, who's a PGA Fellow Professional, and Phil Kenyon, another Master PGA Professional. So there's been a decent pedigree there," he said.
"I've just finished my first year as an assistant, I had been playing EuroPro, but with Covid it made sense to take a year off.
"The year's been all right so far with a couple of wins, but it can always be better."
CLICK HERE for a full list of scores