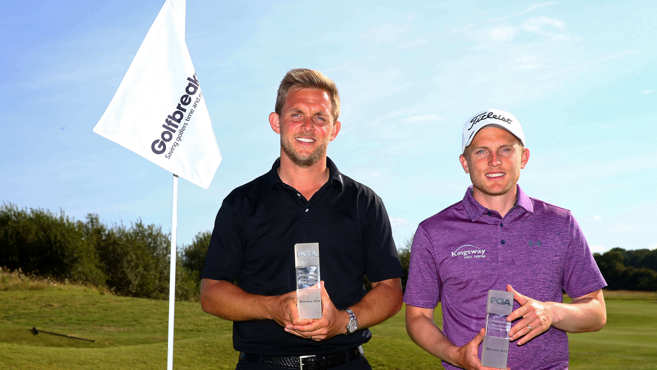 Winer and Watts or Watts and Winer. Whichever way they're billed, as a golfing double act they amount to a formidable foe. And a winning one.
They proved as much at Farleigh Golf Club by becoming the first duo to mount a successful defence of the Golfbreaks.com PGA Fourball Championship. And they did so in convincing style.
Unlike last year when they needed a prolonged play-off to win, their route to claiming the £5,500 winner's cheque and individual trophies was trouble-free.
Having begun the third and final round sharing pole position with Simon Lilly and Michael Campbell on 23-under, they were always in control of their destiny as their challengers faltered.
An eight-under-par round of 64 resulted in them completing three negotiations of the Purple course at the Surrey club in 31-under and a two-shot advantage over the 31 pairs that had made the cut.
James Webber and Max Brackley, who led the tournament at the end of the first round, posed the biggest threat but, three shots adrift of the champions-elect at the start of the final round, only managed to trim the deficit by a shot.
That came courtesy of an eagle at the par-four second but thereafter the pairs traded birdies.
The eighth and final one of James Watts and Jack Winer's round came at the 397-yard par-four 15th and its execution provided a snapshot of their game-plan.
The birdie followed a prodigious drive by Watts who explained: "Jack hit a three-wood off that tee and found the fairway. Had he been in trouble I would have hit a three-wood as well.
"But as he was safe I used my driver, hit the ball as hard as I could and just hoped for the best."
The best resulted in Watts finding the green and following up with two putts for birdie.
"That's what better-ball is all about," added Winer, who is attached to Abridge Golf and Country Club in Essex.
"We dovetailed nicely. On the occasions when one of us was out of it there was always a par on the card if not better.
"When one of you looks like making a bogey or worse and the other makes a birdie, it's almost like an eagle. It's a huge relief."
So, too, for Watts, was the successful negotiation of the par-four 17th which had proved his nemesis in the Birdietime PGA Assistants' Championship last year.
A triple bogey there effectively cost Watts victory and he recalled: "It was my one bad hole in that tournament. Luckily Jack found the middle of the green today and that took the pressure off, so I could free-wheel a bit."
In terms of bad holes in this tournament and its predecessor at Belton Woods 12 months ago, the pair who have been friends for 15-plus years have experienced just one.
"We've made one-bogey in two tournaments in this format," added Watts, who is attached to Kingsway Golf Centre near Cambridge.
"That was at the 17th during the first round of this tournament. That's one bogey in 108 holes.
"Last year we kept the ball in play and this year was very much the same. We played solidly all week and, once again, we paired up well."
A formidable double-act in fact.
Leading scores: J Winer (Abridge Golf & Country Club) & J Watts (Kingsway Golf Centre) 185 (-31); J Webber (The Rayleigh Club) & M Brackley (Manston Golf Centre) 187 (-29); S Lilly (De Vere Staverton Estate) & M Campbell (Kettering Golf Club), J Ingram & T Cowley (both Royal Ashdown Forest Golf Club), G Portelli (Old Fold Manor Golf Club) & R Daw (Effingham Golf Club) 189 (-27).