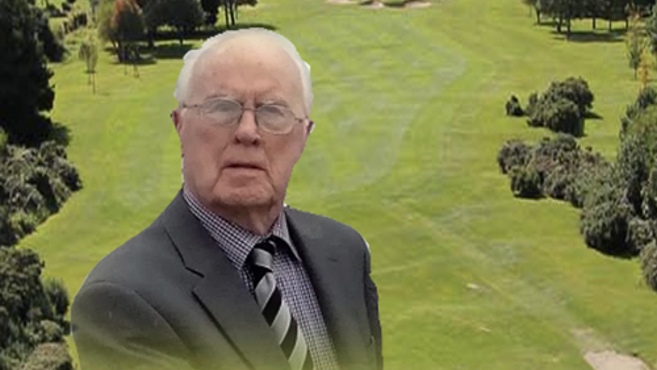 The PGA is saddened to report that Wesley Pappin, who served the Southern Branch of The PGA in Ireland tirelessly as its secretary for four decades, has passed away at the age of 92.
Although he was not a PGA Member, Wesley flew the Association's standard and championed its cause from the moment he accepted the role as secretary in the mid 1970s.
"He was a PGA Man through and through – he was everything but a Member," said Gavin Kavanagh, a former PGA in Ireland board member. "He was committed to working for the Association."
That had begun 16 years after he had attended his first golf tournament – the Canada Cup in 1960 at Portmarnock where he watched Sam Snead partner the then newcomer, Arnold Palmer. He was appointed captain of Foxrock Golf Club in 1977 and later became its President.
Prior to becoming involved with golf, Wesley had represented Ireland at table tennis and was the country's non-playing captain for many years; his long association with the Southern Branch began when he was invited to join its committee and look after the PGA Tankard, its biggest event. 
Wesley's success in organising a competition that helped finance the Southern Branch and make valuable contributions to its Benevolent Fund led to his 42-year stint as its secretary.
"He ran the PGA Tankard for all those years," recalled Kavanagh, the head PGA Professional at Delgany Golf Club, the venue for a surprise dinner in 2018 that celebrated Wesley's 40 years with the Branch.
"It generated significant income for the Branch and its Benevolent Fund. It would not have been there without his work and input. There's no doubt about that. 
"The amount of money he raised for the Benevolent Fund down through the years served so many of our Members who were struggling.
"He ran our events and had a huge amount of time for all professionals. He understood what a PGA Professional was and the difficulties we can experience in our jobs. He was an all-round good guy and a good friend to all of us.
"It's difficult to over-praise him because you can't. He was unique and definitely irreplaceable."
Robert Maxfield, The PGA chief executive, added: "Members of the PGA in Ireland Southern Branch are indebted to Wesley for the work he performed on their behalf.
 "That he was still working for the Branch at such an advanced age and after so many years is testament to his dedication. He will be sorely missed."
In addition, to the PGA Tankard, Wesley was involved with the Moran Cup and many PGA in Ireland pro-ams, one of which was initiated by him at Foxrock during his captaincy year and is still being contested.
Reflecting on his time as secretary shortly after the celebration dinner during which he was presented with a silver salver to commemorate his 40 years of service, Wesley said: "Within a short space of time it wasn't only the Tankard I was organising.
"Things just went on from there! Thankfully I wasn't in it for the money as it wasn't very well paid but I thoroughly enjoyed the role of secretary and all the organisation and administration that came with it. 
"The Branch must have been happy enough with the arrangement too, seeing as they kept me around for all those years!  But it was a bit like being a willing horse, everything gets put onto him!
"Overall I've had a marvellous time with the Branch over the years. I've met some wonderful people and had some amazing experiences."
Such was Wesley's dedication to the cause that, despite several months of failing health, he was still in office when he passed away at The Brabazon House, Sandymount, Dublin.
Vivienne, his wife of 65 years, passed away there two years ago and Wesley is survived by his sister Joyce, nieces Joan, Colette, Glynis, Diane, Catherine and Jackie, nephews David and Ian. The PGA extends heartfelt to condolences to them and Wesley's many friends on their loss.