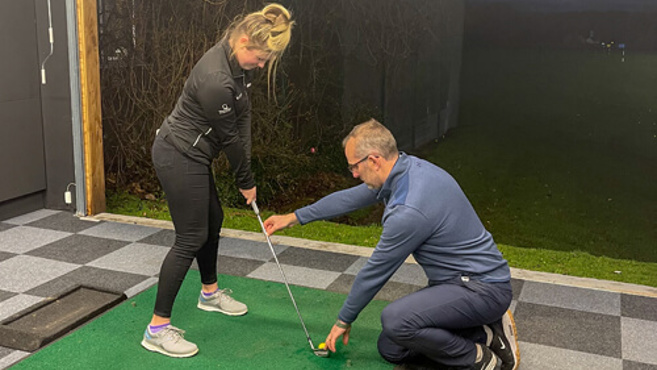 Wiltshire-based PGA Professional Ben Christey-Clover did not have far to travel to source a training aid that enabled him to help a teenager halve her handicap, win competitions and represent her county.
Christey-Clover, who is the director of a golf academy bearing his name at Salisbury Golf Centre, began coaching Chloe Northover, a 15-year-old 12-handicapper in 2019.
Looking back on their first meeting, he recalled: "Chloe had solid fundamentals and hit the ball well when we started.
"But we both felt her downswing sequence didn't enable her to hit consistently well struck shots.
"Using Trackman data and video analysis we highlighted the faults that were causing the inconsistency.
"Her initial movement in transition threw the club out and over the top, which meant her arms worked independently from her body. This stalled her ability to rotate through the strike and resulted in her flipping the club at impact.
"It was clear that with the right process in place and a better understanding of her swing, we could achieve our goal of improved consistency and a lower handicap."
Christey-Clover found a solution locally in the form of DST Golf, a company that produces DST training clubs, an aid used on the range by 21 of the top 27 players in the Official World Rankings.
DST training clubs have a curved shaft and feature an impact line designed to help golfers locate the forward handle position needed to produce a lag impact with a square club face.
"I thought it was the ideal way to help Chloe improve her downswing sequence," added Christey-Clover, "so I incorporated the DST Compressor and CR-10 clubs into our lessons. 
"Once, I had shown Chloe how to line up the impact line we started incorporating impact drills into her pre-shot routine.
"This involved her mimicking the impact position prior to initiating her takeaway and familiarising her with where she needed to deliver the handle at impact.
"Then we started working backwards from impact to enable her to develop the movements needed to support her body, arms, hands and club to reach it!
"Initially she questioned what felt to her like an exaggerated position, which we soon worked through when I explained the difference between what she felt she was doing was different to what was happening in reality.
"To confirm, I showed her pictures of the world's best players reaching a lag impact and compared them to her static impact position, which looked identical.
"Over the following months, we have made tremendous progress and managed to ingrain these movements and feelings into her downswing sequence."
That progress is reflected by Chloe's handicap tumbling from 12 to 5.7, winning the prestigious Peter Alliss Trophy at Ferndown Golf Club, selection for Dorset and consistent top three finishes in club, county and national events.
Christey-Clover added: "As professionals we enjoy seeing progress and that achievement is so much more rewarding when the player concerned is both talented and passionate about the game.
"From a coach's perspective, job satisfaction comes from being able to shape and guide a player to understand and feel 'how' to make improvements and then seeing that improvement happen. This has definitely been the case coaching Chloe."
https://www.youtube.com/watch?v=HMX0z8RWOt0