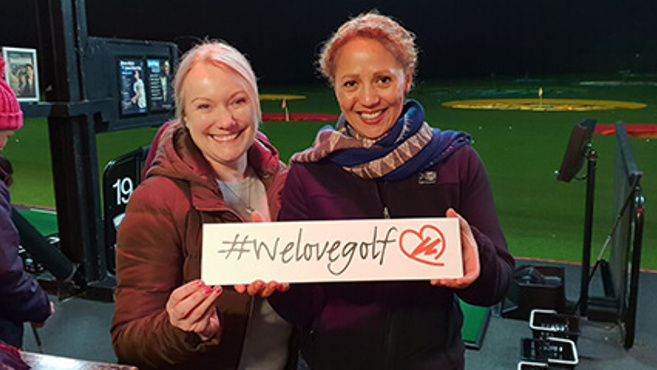 Women of all ages from across Hertfordshire braved the cold weather and enjoyed their first ever golfing experience at the first We Love Golf event in Watford.
The freezing conditions and wet weather failed to put off more than 50 women who took part in a free sessions at Topgolf.
Thanks to the Topgolf PGA Professionals, not only could they hit the ball, but they scored points, made friends and had a lot of fun.
"At the heart of the We Love Golf campaign is the strong belief that if we give women the chance to hit their first golf ball in a fun and friendly environment, then the majority will choose to carry on," said Robert Maxfield, chief executive of The PGA.
"The Taster session at Topgolf Watford fundamentally proves this. Many of the women had never had access to golf through traditional routes, but they came out with their friends who golf and even as friends who don't to give it a try.  I am excited to see how this project progresses and to develop more opportunities like this in 2019."
Topgolf prides itself on inspiring connections and bringing people together, which is why it was the perfect partner for this first foray into events for the We Love Golf campaign. 
The response to the event and the reaction of the participations has spurred both The PGA and Topgolf on as Andrew Agnoli, an Advanced PGA Professional and Head of Academy at Topgolf explains: "It was inspiring to see women coming along with no idea of what to expect, enjoying the experience, hitting balls and surprising themselves with their own ability. 
"There was a lot of laughter and camaraderie out there and some of them even stayed on after the session finished to hit more balls! I have no doubt we'll be seeing them again for beginners' coaching through to the New Year."
More than 90 women signed up for the event and all of them will be offered the chance to take part in a series of group beginner sessions running through the winter. 
It is hoped that by feeling part of a new community from day one will help build confidence, encourage those next steps and establish the friendship groups that keep women coming back to golf. 
At the end of the beginners' coaching sessions the ladies from local club Aldenham Golf Club will welcome them to take part in a competition on their Par 3 course completing the We Love Golf transition from Topgolf to a Golf Club.
The PGA's We Love Golf campaign will continue into 2019 with plans to work in collaboration with industry bodies to stimulate interest in golf and deliver that interest to the people, places and products that support growth of the game.