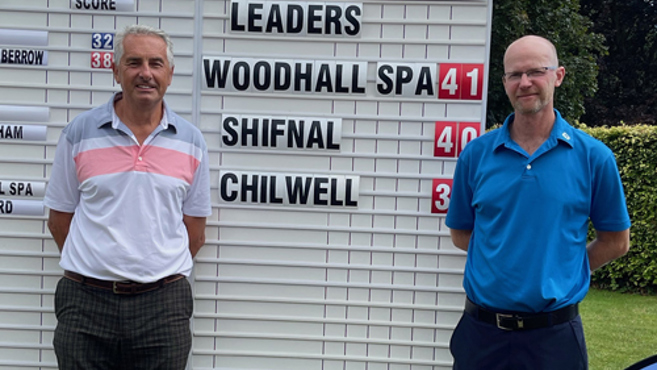 Golfing YouTubers Alan Howe and Scott Emery have booked a trip to Italy for the final of the SkyCaddie PGA Pro-Captain Challenge.
The Woodhall Spa Golf Club pairing won a tight contest by just one point in the Midlands A qualifying event at Enville Golf Club.
They edged out Shifnal Golf Club duo Paul Miller and Neil Allsebrook at the Stourbridge venue.
Now the pair will take part in the final at the Agentario Golf Resort, Porto Ercole, in October.
That will be a welcome boost for Howe whose term as club captain has been blighted by the coronavirus pandemic.
"I took over in November and it was quiet until March," he explained. "Since then myself and Sue Leggate, the ladies captain, have been full speed ahead. Until then Covid scuppered a lot of things for us.
"One good thing that happened was, from January to March, Sue and I put out a weekly blog which was a 'captain's top tips'. 
"And we got Scott, the rest of the professionals and our fitness team, to do little video clips.
"It went down really well with the members, but it kept us in touch with them at the same time.
"They loved it. Scott did a video on putting - from his lounge. One wag responded by saying he wanted to buy a carpet and needed to know the speed of Scott's.
"They were posted on YouTube and the members could click to it from the blog. Now members are asking us why we've stopped - but we're busy playing again now."
Howe and Emery, a PGA pro at the Lincolnshire club, thought they might have ruined their chances of winning after recording a bogey at the 17th hole.
Without knowing the state of play, and being the last of the teams to finish, they made par at the final hole and that was enough to seal victory.
"We thought we were two or three points behind the pace and then we made a mess of the 17th hole," said five-handicapper Howe, who has now retired from the finance industry.
"But then we felt we should have birdied the 18th but didn't. We didn't know what the scores were but thought 42 or 43 would win it. So I took a look and saw 40 points was best and we'd won. We were very surprised.
"The team with 40 points were out early and sat there all day only for us to win.
"But we are over the moon about being able to go to Italy for the final."
CLICK HERE for a full list of scores