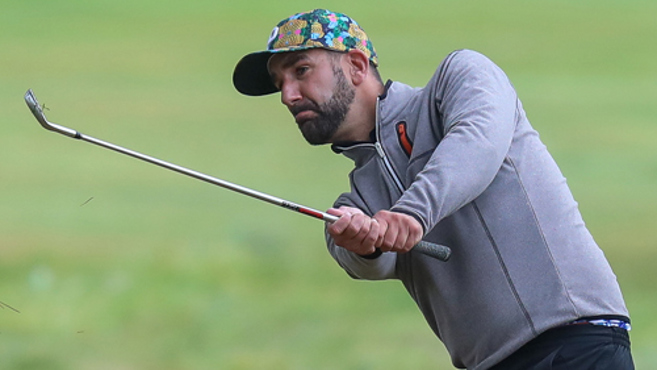 Devon pairing Richard Woods and James Wiltshire won the Golfbreaks PGA Fourball Championship West qualifying event in only their second competitive tournament together.
Woods (above), of Dainton Park Golf Club near Newton Abbott, and Wiltshire, representing Clifton Hill Golf & Driving Range in Exeter, topped the leaderboard in convincing style with a 13 under par round of 59 at the Players Club in Bristol.
They finished two shots ahead of their nearest challengers James Ruth (China Fleet Golf & Country Club) and William Farley (Torquay Golf Club). 
There were eight other qualifiers from the event who will now head to Carden Park Golf Club in Cheshire for the £33,250 grand final which takes place in August.
But while the duo may be new to the PGA Fourball Championship, they can be seen on Wiltshire's YouTube channel which has more than 55,000 subscribers.
"I've played with Rich on the YouTube channel quite a few times over the last couple of years," he explained.
"We then practised on Trackman, things like that, so we ended up knowing each other's games pretty well.
"I've been running the YouTube channel for around two and a half years and it's my full-time job now.
"But we've only played together once before in a local Devon PGA Betterball before this and we won that at the end of last year.
"This was the second time we've got together, so we're two for two now."
Wiltshire admitted he was hopeful they could qualify for the final at the start of the day.
"We felt we needed six or seven under par to qualify, but it was one of those days when everything seemed to go to plan," he added.
"The Players Club definitely suits my game and Rich is really steady anyway. I thought we stood a good chance.
"Neither of us have played at Carden Park before, but we know a couple of guys who have and the set-up sounds similar to the Players Club."
CLICK HERE for the full list of scores